Peninsula Programmes have been trendsetters and are overwhelmingly popular with all. The Peninsula System Progression takes the trainee through three phases of intensive tennis training: Technical/Mechanical, Pre-competitive and Competition. These individual and comprehensive phase-in training programmes are designed to help players reach their maximum performance and pre-set goals.

The Peninsula Tennis Academy offers both residential and non-residential programmes scientifically designed to meet the competitive needs of the trainees. The Peninsula system, besides offering a complete training programme to the ambitious junior is beneficial to anyone who wants to improve his or her level of the game. Specific systems are implemented for different skill level groups. Peninsula's team of reputed and internationally qualified coaches provide invaluable inputs to the trainees based on their varied experiences – an USP not readily available elsewhere.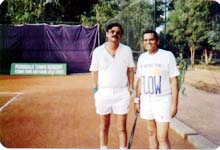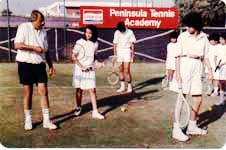 Ramanathan Krishnan at Peninsula Jaidip Mukherjea coaching at Peninsula
with Bobby Singh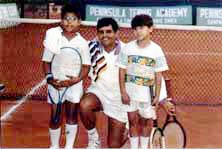 Ramesh Krishnan coaching at Peninsula

NON-RESIDENTIAL PROGRAMMES
Advanced Programmes
Advanced Programmes are meant for serious trainees who want to master the game and are potential champions. Focus is laid on intensive and individual coaching in a group size of four per coach with unlimited practice time. The Programme combines the latest training techniques with computer analysis of each players ability and skill to improve his/her game with emphasis on both physical and mental toughness. The latest scientific gadgets employed in Tennis Academies in the West - sophisticated Tennis Ball Machines, Tennis Analyst, Servo-meter, Speed Check radar, Video playback and Diet Monitor - are some of the contemporary training aids offered in this programme. Advanced audio and video training from internationally renowned experts is also available. The progress of the trainee is closely monitored with progress charts. Advanced Programmes are available at select Peninsula centres and full details are available on request

Promising Peninsula trainees are trained for the domestic and international circuits. Sponsorships/ scholarships are provided by Peninsula associates and are subject to merit.

Intermediate Programmes
This programme is meant for the trainee who has honed his basics and is ready for the next level - tournament play! Emphasis is placed on developing sound effective strokes to enable the trainee to progress to the next higher level of advanced tournament play. Group size is kept small so that the trainees get individual attention. The development of the trainee is closely monitored and regular progress reports evaluate the growth. Group size of six trainees per coach with six hours of coaching per week. Offered at all Peninsula centres.

Introductory Programmes
The Introductory Programme aims to motivate and interest the young trainees in the game and teach the correct basics for a strong foundation. It is an economical package for learning the fundamentals of the game. The group size is limited to six trainees per coach thereby providing individual attention. Three to six hours of coaching per week is provided based on aptitude. Offered at all Peninsula centres.

Little Champs Tennis
'Peninsula Little Champs Tennis' is a novel way to introduce tennis, in a fun atmosphere, to children in the age group of 3-6 yrs. Besides developing hand-eye coordination and sharpening the motor skills of a child, it enhances their ability to take up tennis at a later stage. This programme is a scaled down version of tennis which uses a smaller court, smaller rackets, lighter balls and a game based approach to learn the sport.
School Tennis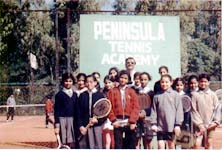 Trainees in Peninsula's School Programme

To popularise tennis amongst schools, Peninsula offers its trend setting "School Programme" to all classes at subsidized rates during academic hours. Tennis rackets, balls and specialised teaching aids are provided by the Academy free of cost in this unique Programme. The overwhelming success of this Programme has resulted in the Academy tying up with several schools with the aim of increasing the base of Indian tennis.

Adults Programme
Special group coaching programmes for adults at select Peninsula centres.
Womens Special
Peninsula's special programme for home makers and others adults to introduce the benefits of tennis and fitness.
Wheelchair Tennis
Aimed at the physically challenged as Tennis is the perfect sport for the disabled to be reintegrated into the society. Wheelchair Tennis has been the fastest growing, most challenging and exciting of all wheelchair sports. It has provided opportunities for many disabled people to enjoy competitive tennis as well as share experience with both able bodied and disabled players of all age groups.
Senior Citizens Special
This is a special programme for our seniors inculcating fitness with pleasure.

Corporate Programmes
Special programmes for the corporate and customised as per requirements.
Specialty Clinics
Special clinics for honing specific tennis skills

Celebrity Clinics
Special clinics with Peninsula celebrity coaches.
Playing Faciity
Regular tennis playing facility, as provided in Clubs, is also available at most Peninsula centres during the morning session. Coaches are provided upon request.
RESIDENTIAL PROGRAMMES (Temporarily Unavailable)
Residential Intensive Tennis cum School Programme (RITSP)
This pioneering programme incorporates the best of public school education with the Peninsula Tennis Academy's special tennis programme systematically planned to produce future tennis champions. The flexibility in the programme allows the trainees to maintain their academic standards while pursuing their tennis training at the premier facility in India. Offering the best tennis-cum-educational programme for players from all over the Indian Peninsula and neighbouring countries within the same campus, the Programme is open to all students who have "tennis" on their minds. You don't have to be a champion or a ranked player to be a part of this unique programme – but we will treat you as a champion all the same! In this programme, equal emphasis is laid on tennis, fitness, study, discipline, responsibility and team work.
The Programme offers school education (CBSE) at select well known residential schools where a customised curriculum is offered to trainees. Emphasis is laid on more hours of training for Tournament participation. The academic session begins in April each year. RITSP undergraduates are also welcomed at the renowned EMPI Business School for further studies in Management programmes. Full details provided on request.

Monthly Special
Monthly intensive residential coaching programme without school education geared towards school holidays..