Academy Profile

Achievements

Coaching Programmes

Peninsula Centres

Enrolment

Upcoming Events

Peninsula Sports
Management

Court Construction

Professional
Tennis Registry

Media Coverage

News

Index
Peninsula Sports Management

The Peninsula Sports Management is the marketing arm of the well known Peninsula Tennis Academy. Besides regularly holding tennis events in the domestic tennis calendar, it also organizes events in other sports. It has pioneered mega events for leading Indian and multinational companies with unprecedented success since 1990. Peninsula Sports Management has been instrumental in attracting the corporate sector to the concept of using sports as a strategic tool in a planned marketing strategy.

Indian sports especially Tennis, now offers unsurpassed opportunities which are most cost-effective. According to current estimates, tennis is now the second fastest growing sport in India after cricket. Today it is the ideal publicity vehicle for the corporate sector as tennis sponsorship is comparatively cheaper and the sport is closely followed by a more affluent segment of the market.

Peninsula Sports Management customizes events to suit marketing needs of the corporate and guarantees maximum mileage. The publicity generated around these events creates heightened brand awareness amongst the target clientele besides enormous goodwill. Peninsula events have had spectacular results, building long term close relationships with its clients.
Peninsula Sports Management also regularly organizes syndicated columns for the national media and sports serials for television.

Some of Peninsula's leading associates are - *Cosco (India) Ltd *Eternit Everest Ltd *Reebok India Company *Wilson *Pure Drinks (Pvt.) Ltd *AT & T *JK Group *RPG Group *Shaw Wallace *Agilent Technologies Inc *Shobiz Events Solutions *Mercedes Benz *Encompass

Peninsula Sports Academy

Peninsula Sports Management also runs sports academies in various sports i.e. Cricket, Basketball, Badminton, Table Tennis, Squash, Chess, Martial Arts, Yoga, Aerobics, Football, Hockey and Skating.
Peninsula School Programme

The Peninsula Sports Management also provides complete sports management in schools all over India along with necessary technical and administrative staff, teaching aids, sports and coaching equipment. Its high profile world class programmes, during the academic time table are geared towards grooming and nurturing future champions comprise of the following:

- Introducing various sports to the students and inculcating a sporting habit in them
- Segregating students into different sports as per aptitude and natural talent
- Identifying talented students and creating a talent pool in each sport
- Grooming and nurturing future champions for inter-school competitions, CBSE meets, State, National and International tournaments.

This is endeavored through:
- A Peninsula syllabus for each sport created by experts
- Grading each student biannually and incorporating grades in the school report card
- Certificate of merit to each student endorsed by leading corporate in the sports industry

Peninsula's Executive Fitness Programme

Peninsula runs its Executive Fitness Programmes (EFP) in leading management institutes. The EFP provides the young professionals and university students a healthy lifestyle focusing on physical and mental fitness for enhanced performance in corporate life. In today's stress filled environment, where premature burnouts are common, this novel programme ensures professional success while safeguarding the well being of the executive. It has been an outstanding success. many enlightened corporate have also already introduced this successful programme for their employees.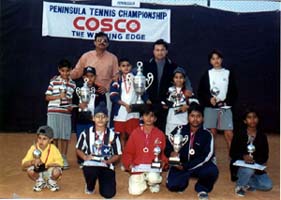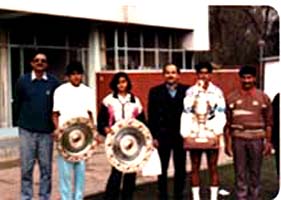 Peninsula Tennis Championship Winners with Eternit Everest Cup Winners with Mr P Khurana,
Mr S Varma, MD, Reebok India Company MD, Eternit Everest Ltd.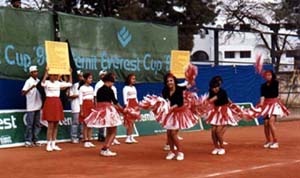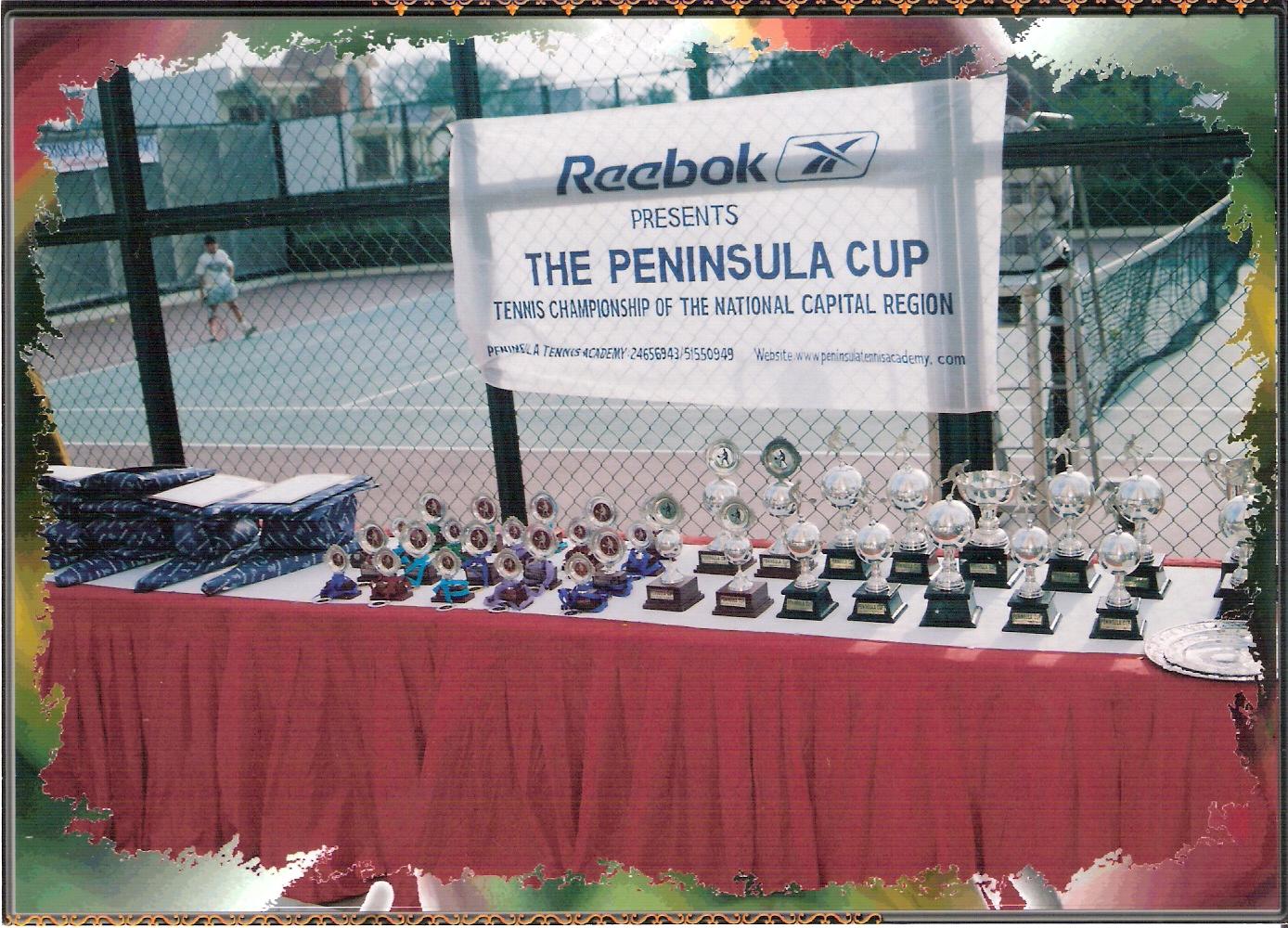 The Eternit Everest Cup Cheerleading Contest The Peninsula Cup
Some Regularly Held Events by Peninsula Sports Management

The Agilent Cup Inter company team Championships in Tennis, Squash, Badminton and Table Tennis - Prizes over Rs 1.50 lacs!!
The Great Talent Search Series of Tennis Workshops and Tournaments conducted by celebrity coaches all over India to unearth talent
The Peninsula Cup Event for boys and girls under - 6, 8,10,12,14,16
Campa Cup Event for boys and girls under - 14, 16, 18
Wilson Tennis Championships Event for boys and girls under -14, 16 along with Men's Open
Eternit Everest Cup A complete Tennis Circuit across India with 4 Zonal Championships and the Masters Final with the highest prize money in India. An exciting event for boys and girls in the under -16 age group.
All India Inter School Tennis Championships Schools across India vie for the most prestigious School Trophy
Peninsula's Inter school Cheerleading Contest The first ever Cheerleading Contest in India received rave reviews and front page coverage in the National dailies to become a trendsetter in Indian sports.
Tennis Quiz Contest Peninsula also pioneered the Tennis Quiz Contest in India which created ripples of excitement in the tennis world when the winner was sent to UK to watch Wimbledon!
Peninsula Cricket Championships Schools across the NCR vie for the this Trophy!
Peninsula Roller Skating Championships For Juniors under 14
Peninsula Table Tennis Championships Junior Team Championships
Peninsula Chess Championships For Juniors under 18