Professional Tennis Registry
In an unprecedented tie-up with the world renowned Professional Tennis Registry (PTR), the Peninsula Tennis Academy brought this internationally acclaimed organisation to India. The PTR is the premier Certification organisation in the world for a tennis coach and has more than 10,500 members worldwide in 123 countries. Founded in 1976 by Billie Jean King and Dennis van der Meer, PTR certifies tennis teachers through internationally recognized teaching methods.

The PTR is internationally recognized - it is recognized by the ATP Tour, WTA Tour, USTA and International Tennis Federations around the world - as such through the PTR members have unrivalled global job opportunities and is of immense benefit to coaches. Through PTR, members will also have access to the latest coaching equipments, Tennis Magazines, Educational Manuals/Videos and special discounts on sporting goods / clothing and accessories from our local /international sponsors. Members will be eligible for participation in the PTR INDIA Tennis Championships.

Through regularly held PTR Workshops organised all over India by the Academy, the Peninsula Tennis Academy has helped certify over 2000 members in India in the short time since it commenced its Indian operations in 1995. Certification is awarded as per the following PTR grades:
* International Master Professional * Master Professional * Professional * Instructor * Associate Instructor.

Bobby Singh, Director Peninsula Tennis Academy has also been the Director for PTR (USA) in India for 25 years. .
<![if !vml]>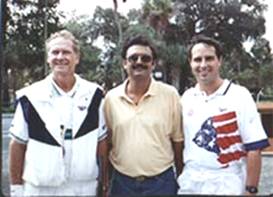 <![endif]>
Bobby Singh with Dennis van der Meer, founder PTR
and Dan Santorum, CEO, PTR
PTR President's Award
This award recognizes the oldest PTR India member. Capt. Sunny Jacob won the inaugural award in 1999 as he had been a member for over a decade.
The Annual COSCO Scholarship Award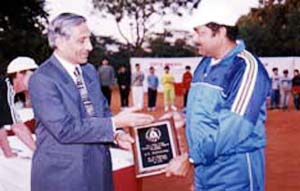 Mr N.K. Jain, MD COSCO (India) Ltd. presents PTR Award

COSCO (India) Limited sponsors one Indian member to the annual International Symposium in USA. The roll of honour for the PTR - COSCO Scholarship Award as follows:

2000 - Rupa Kaushik 2001 - Vinod Kumar Dogra 2002 - Hiteshwar Singh
2003 - P. Amirthalingam 2004 - Pramesh Modi

PTR PRESIDENT'S AWARD

1999 - Capt Sunny Jacob 2009 - Mr. T. Soma Sekhar




2000 - Maheshwar Kumbria 2010 - P. Amirthalingam




2001 - Satyajeet Burman 2011 - Sanjay Malik




2002 - M. Krishna Kumar 2012 - Shobhika Badhwar




2003 - Shekhar Menon 2013 - Gopal Singh




2004 - Sohini Kumari 2014 - Pavan Murthy




2005 - Anup Lahoty 2015 - Sagar Bisht




2006 - Vishnu Char 2016 - Tara Chand




2007 - Dilip Mohanty 2017 - Devinder Singh Bhusari


2008 Satya Prakash Gautam

2018 - Arpan Trivedi




PTR TESTER OF THE YEAR

1998 - T.S.Bhandari 2011 - Jignesh Raval

2000 - Ratan Sharma 2012 – Shrimal Bhatt

2003 - Pavan Patel 2013 – Shrimal Bhatt

2004 - Shrimal Bhatt 2014 - Jignesh Raval

2008 - Jignesh Rawal 2015 - Jignesh Raval

2010 - Shrimal Bhatt 2016 - Shrimal Bhatt

2017 - Jignesh Raval

2018 - Shrimal Bhatt

PTR VOLUNTEER OF THE YEAR


1998 - Syed Muneer Ahmed 2010 - Tara Chand Sharma

2001 - Md. Ashraf 2011 - Davinder Tokas

2002 - Dilip Mohanty 2012 – Reagon Rathore

2003 - Neeraj Kumar 2013 – Nadeem Ahmed

2004 - Prithvi Shah 2014 - Antesh Singh

2005 - Sanjay Malik 2015 - Jitin Mishra

2006 - Prakash John 2016 - Arpan Trivedi

2007 - Satya Prakash Gautam 2017 - K G Ramesh

2008 - Naresh Sharma 2018 - Deepak Nair

2009 - Mohammad Javed

PTR JUNIOR COACH OF THE YEAR

2002 - Mohd. Arshad 2011 – Kamal Kishore




2003 - Sagar Singh 2012 – Ajay Singh




2004 - Jeet Saini 2013 – Sunil Kumar




2005 - Om Prakash 2014 - Rajesh




2006 - Niyaz Ali 2015 - Ganish Kumar


2007 - Antesh Singh 2016 - Virender Singh


2008 - Banarasi Das 2017 -

Shankar Kumar




2009 - Hans Kumar 2018 -Satbir Singh




2010 - Gopal Singh

PTR INDIA COACH OF THE YEAR AWARD

1998 - Akhtar Ali 2010 – Sohini Kumari




1999 - Enrico Piperno 2011 – M. Krishna Kumar


2000 - B.R.Priyadarshi

2012 – Dilip Mohanty




2001 - Pavan Patel 2013 – Subhan Khan




2003 - Shrimal Bhatt 2014 - Navdip Singh




2004 - Shobhika Bhadwar 2015 - Jigar Jetly
2005 - T. S. Bhandari 2016 - Suresh Maurya




2006 - Pavan Murthy 2017 - Mukul Karthikeyan
2007 - Jignesh Rawal 2018 - Devinder Singh Bhusari




2008 - K.S. Maheshbhalaji




2009 - Capt. Sunny Jacob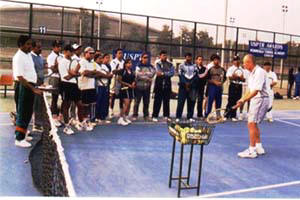 PTR Workshop conducted by International Tester, Dr. Louie Cap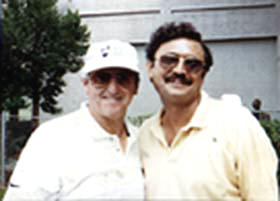 Bobby Singh with tennis legend Roy Emerson